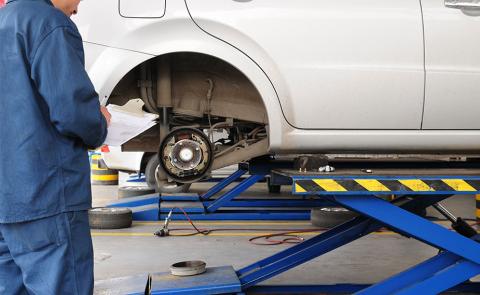 Our vehicles allow us the freedom to travel, but it is equally important to ensure we can come to a safe stop when needed. The braking system in your vehicle consists of components located on each wheel that utilize friction to gradually reduce the rotational energy, allowing you to slow down and stop as desired. These systems are intricate, incorporating hydraulic fluid, mechanical parts, computer controls, friction materials, and electrical sensors. In some cases, hybrid vehicles also utilize generators on each wheel to regenerate power back into the battery pack during deceleration.
Brake pads and rotors endure significant stress as they convert rotational energy into heat. Consequently, these components are designed to wear out over time. It is crucial to conduct regular inspections of your brakes, typically during tire rotations or whenever the wheels are removed from the vehicle.
Thorough examination
All modern cars are equipped with anti-lock braking systems, featuring computer systems and sensors that modulate stopping power at each wheel. A comprehensive inspection encompasses the examination of these sensors and diagnostic analysis of the entire braking system to ensure optimal functionality.
If you suspect any brake-related issues, it is imperative to take immediate action and STOP! A malfunctioning braking system poses extreme danger not only to yourself but also to other road users. Contact our knowledgeable consultants to discuss your concerns, and if necessary, arrange for your vehicle to be towed or transported on a flatbed.
The safety of you and your family is our top priority, and we will spare no effort in ensuring the effectiveness of your braking system. Should you have any questions or if any aspect of our service falls short of your expectations, please don't hesitate to contact us. Your feedback is invaluable as we strive to provide you with the best possible service and vehicle care.
I am personally available to address any inquiries or feedback you may have. Please call us at 682-262-1675 to schedule an appointment or to share your service experience. It is my responsibility and commitment to deliver exceptional service and maintain the highest standard of vehicle care.
At Quick Auto And Exhaust, your trusted automotive care center in Franklin, TN, we exclusively install quality replacement parts. Contact us today, and let us ensure your safe and cost-effective journey on the road. Our services extend to Franklin, Brentwood, Nashville, and Williamson County.