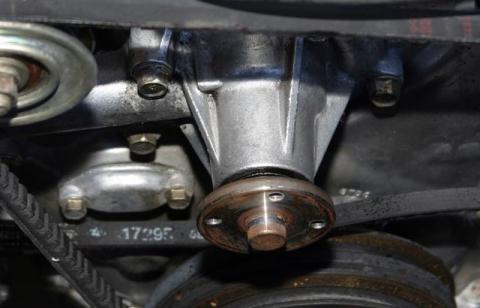 The water pump plays a vital role in the cooling system of your engine, acting as its central component. It is powered by a belt, either the exterior serpentine belt or the internal timing belt, and facilitates the circulation of coolant throughout the engine, heater, and radiator. Typically, the pump consists of a pulley mounted on a shaft, supported by a bearing with a seal to prevent leaks. Inside the pump, a wheel with angled vanes ensures the directed flow of coolant. These components are constantly exposed to the high temperatures of the coolant.
Maintenance Considerations
Water pumps are designed to last for many thousands of miles. However, inadequate maintenance or exposure to contaminants can significantly shorten their lifespan. A slow coolant leak from the water pump is often indicative of a faulty seal, while a noisy water pump typically indicates bearing failure. In both cases, the entire pump requires replacement.
In some vehicles, the pump is externally located at the front of the engine block, while in others, it is internally mounted, necessitating the removal of the timing cover. In either scenario, it is essential to inspect and typically replace the drive belt. Particularly when dealing with an internal water pump, replacing the drive belt can extend the engine's useful life and prevent severe damage.
If you notice coolant leakage, it is crucial to top off your cooling system and bring your vehicle in for inspection. Although the water pump may not be the sole cause, a cooling system with a coolant loss can lead to severe engine damage if not promptly addressed. We will identify the issue and take all necessary measures to prevent any further complications.
Commitment to Quality Replacement Parts
At Quick Auto And Exhaust, we take great pride in using only the highest quality replacement parts. We understand that our reputation is essential to our success, and we value your feedback. Please feel free to reach out to us via phone or by visiting our facility at any time to share your thoughts on the services we have provided. Even as a new customer, our goal is to ensure your complete satisfaction, so you can confidently refer us to your friends and acquaintances.
At Quick Auto And Exhaust, your comprehensive automotive care center in Franklin, TN, we exclusively install quality replacement parts. Contact us today, and let us assist in keeping you safely and economically on the road. We proudly serve Franklin, Brentwood, Nashville, and Williamson County.