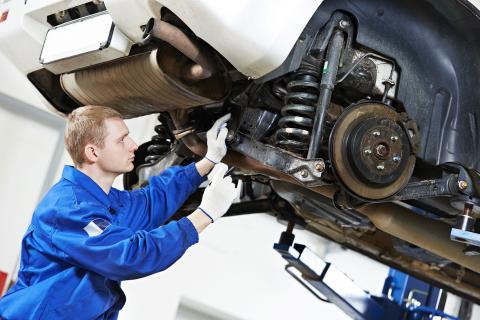 AXLES play a crucial role in transferring the power generated by your engine to the drive wheels. In front-wheel drive vehicles, they are typically housed within the transaxle, while rear-wheel drive vehicles have axles connected to the differential. Modern all-wheel drive vehicles commonly utilize both types of axles.
Issues with axles are often indicated by symptoms such as vibrations, noise, or the presence of gear oil at either end of the axle. A failed axle while driving at high speeds can pose significant dangers, even life-threatening. Noise that intensifies with the vehicle's speed may indicate damage to an axle bearing caused by inadequate lubrication. If you experience any of these warning signs of impending axle failure, it is crucial to have your vehicle serviced immediately. It is recommended to have it towed to our facility for prompt inspection.
Exceeding your truck service expectations
At Quick Auto And Exhaust, we strive to be your top choice for auto and truck maintenance and repair services. Our friendly staff and professional technicians are committed to surpassing your expectations when it comes to truck servicing. We understand the importance of trust in ensuring the safety of you and your family during your travels. Rest assured that we treat your vehicle with the same level of care as we would our own.
With a dedication to using only the highest quality replacement parts, we take pride in our work because we understand that our reputation is pivotal to our success. Your feedback is valuable to us, and we encourage you to reach out to us at any time to share your thoughts and experiences regarding the services we have provided. As a new customer, we hope that you will leave our facility satisfied and eager to refer us to your friends and acquaintances.
At Quick Auto And Exhaust, your trusted automotive care center in Franklin, TN, we exclusively install quality replacement parts. Contact us today and let us assist you in maintaining the safety and economic efficiency of your vehicle. We proudly serve Franklin, Brentwood, Nashville, and Williamson County.