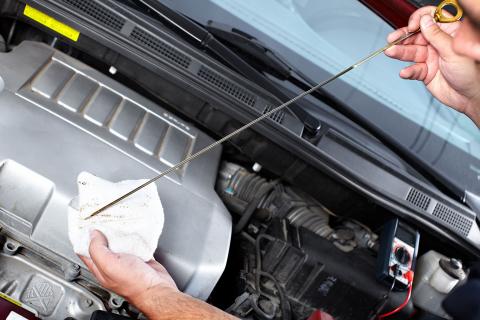 An oil change provides a rejuvenating boost to your vehicle, akin to a transfusion of new life. Over time, the chemical properties of oil can deteriorate, compromising its ability to reduce corrosion and provide optimal lubrication to your engine. Additionally, dust and dirt can infiltrate the crankcase in certain environments. Hence, regular oil and filter changes are of utmost importance in preserving the long-term reliability of your car or truck.
Maintenance Schedule
The manufacturer of your vehicle establishes a maintenance schedule based on typical usage under average conditions. We can assist you in adhering to this schedule or, if necessary, advise you if more frequent oil changes are recommended. Clean oil serves as the lifeblood of your engine, and regular changes ensure a prolonged and trouble-free service life.
Between oil changes, it is prudent to monitor your oil levels for any leaks or abnormalities. If the oil level is low, utilize synthetic motor oil as specified in your owner's manual. If the oil appears milky whiteish in color, cease driving the vehicle immediately and have it brought in for inspection, as this indicates imminent severe engine damage.
Enhancing the Longevity of Your Vehicle
Using synthetic oil is paramount in promoting the long-term durability of your vehicle. Synthetic oil exhibits superior resistance to contamination and effectively suspends dirt particles for removal by the oil filter. Consequently, engine components experience minimal wear, resulting in an extended lifespan.
During each oil change, we also inspect your other fluids and filters, as well as examine the lubrication of your suspension components. While some parts are considered "lubed for life" by the manufacturer, others may require occasional reapplication of the appropriate lubricant to ensure their longevity. When it comes to suspension parts, proper greasing is essential!
To optimize outcomes, consult with us regarding a tailored maintenance schedule for your vehicle. Through regular scheduled maintenance, we ensure your vehicle never surpasses the manufacturer's recommendations, while proactively inspecting your car for any potential service issues before they manifest. We are committed to maintaining the safety and reliability of your vehicle for as long as you derive enjoyment from it!
At Quick Auto And Exhaust, your trusted automotive care center located in Franklin, TN, we exclusively install high-quality replacement parts. Contact us today, and let us assist you in ensuring your safety and cost-effectiveness on the road. Our services extend to Franklin, Brentwood, Nashville, and Williamson County.