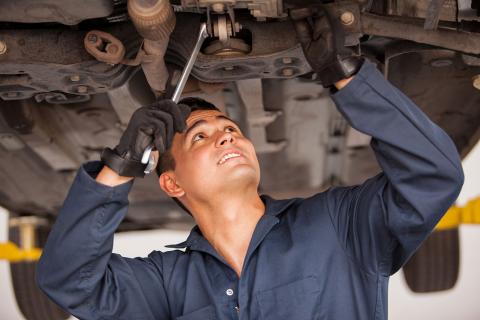 The powertrain of your vehicle encompasses the engine, transmission or transaxle, and rear differential in the case of rear-wheel drive. In gas/electric hybrid vehicles, one or more electric motors, as well as the battery pack, may also be part of the powertrain. In all-electric vehicles, the powertrain consists of the electric motor and the battery pack.
This system is responsible for propelling your car forward. The engine utilizes fuel to generate power, which is then transmitted or distributed through the transmission. Finally, the power reaches the drive wheels via the differential or transaxle.
Addressing Drivetrain Issues
As you can imagine, any drivetrain issue can significantly impact your ability to move. You may experience a decrease in performance, which could be due to a minor adjustment or require further attention. In more severe cases, your vehicle may refuse to move altogether, indicating a critical issue that demands immediate attention.
No matter the nature of your powertrain problem, we possess the expertise to diagnose the issue and provide you with the necessary information to get you back on the road. Our factory-trained and system-certified technicians excel at pinpointing drivetrain issues. You will receive a comprehensive understanding of the problem and the required repairs to restore safe operation.
Committed to Quality
Using only top-quality replacement parts, we take great pride in our work as we recognize the paramount importance of our reputation. We value your feedback and encourage you to reach out to us anytime to share your thoughts on the services we have provided. Whether you are a new customer or a returning one, our goal is to ensure your complete satisfaction and earn your trust to the extent that you enthusiastically refer us to your friends!
At Quick Auto And Exhaust, your trusted automotive care center located in Franklin, TN, we exclusively install top-quality replacement parts. Contact us today and let us assist you in maintaining your safety and achieving cost-effectiveness on the road. We proudly serve Franklin, Brentwood, Nashville, and Williamson County.